Touched, tickled, and terribly impressed, I left last Wednesday's performance of Cheryl Stern's Shoes and Baggage feeling buoyed and hopeful that compulsive buying may yet really come out of the closet, and this time for good!
As this funny, poignant, and thoughtful one-woman musical odyssey opens, the audience is bombarded with a plethora of advertising images, sale signs and the like, flicking on and off a large screen in rapid-fire succession.
To see a 34 second promo video of the show that begins with these images Click Here 

From the show's website: Shoes and Baggage is about the insatiable urge to purchase and possess beautiful things and the deeper feelings that propel this behavior. Actress Cheryl Stern takes us on a wild, hilarious, and heartbreaking ride, hunting and spending as she digs deep to understand her own obsession with shopping.
Over the course of the 75-minute performance, we see Cheryl portraying over two dozen characters including a Broadway actress, a shopaholic friend, a coach whose client is the host on the Home Shopping Network, and herself at a Debtors Anonymous meeting. Cheryl's personal share at DA describes her actual overshopping and overspending story; "I have overspent my entire adult life because I believed I would somehow be saved by my big break someday. Drowning in debt, hemorrhaging money I don't have… and so I'm here." Each of these personalities, in her own way, illuminates the "secret yet relatable world of retail enslavement."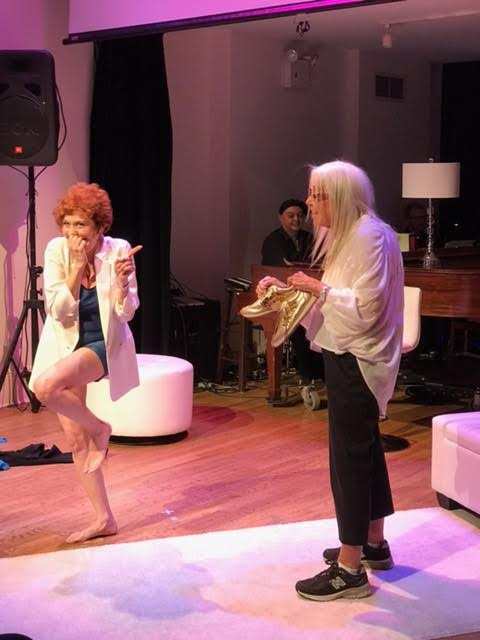 In a bold, brazen move to release herself from these chains, at the end of the show, she strips off her expensive silk blouse and pants, revealing her curvy, imperfect and beautiful body. Released from her psychological prison, confident and captivating, she dances across the stage, clad only in a sleeveless Capezio leotard.
During the post-show event, Cheryl invited audience members to bring an item that wasn't working for them.  Audience members voted whether to return, sell, donate, swap, repurpose or keep the item!
Cheryl hopes to take her her shoes, her baggage, and her show on the road, if funding permits. Her courageous, sometimes zany portrayal will help countless others who suffer with this "smiled-upon" addiction, countless others who can never get enough of what they don't really need. Cheryl easily convinces us there's better company than Louis Vuitton, more to chase than the next big sale, and a true friend than the pitch person at HSN.
Cheryl and I have been in touch several times since the show and are actively collaborating to move our shared agenda forward!  We're both painfully aware that something has to be done to stem the increasingly strong tide that is drowning compulsive buyers worldwide.
The emotional baggage that a compulsive buyer carries is heavy and cumbersome.  But effective, available resources that can help lighten your load are available. It's never too late to begin. For a comprehensive list of resources, click here.
Carrie Rattle is a Principal at BehavioralCents.com, a website for women focused on mind and money behaviors. She has worked in the financial services industry for 20+ years and hopes to inspire women to better prepare themselves for financial independence.